(CNN) -- The frenetic pace of presidential campaigning that has crested in the last few days -- in which the candidates or their surrogates hit 10 states -- won't end when voters go to the polls on Tuesday.
Republican candidate Mitt Romney will campaign in two states on Election Day - Ohio and Pennsylvania - according to a Romney campaign official.
Campaigning on Election Day, a senior Romney adviser says, will help "keep the energy going" until the polls close. The idea is that the campaign is "just going to keep working up until the polls close," said the same Romney adviser.
On Monday, President Barack Obama and Romney spent the final hours of the campaign making a mad dash through battleground states in a push to sway a closely divided electorate ahead of Tuesday's election.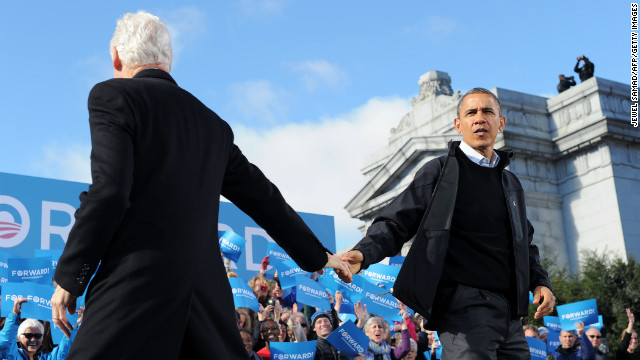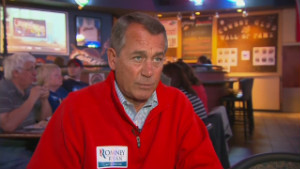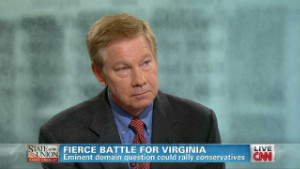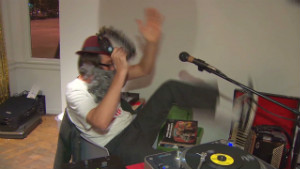 The candidates final push for votes comes as national polls show the race is incredibly close.
CNN's Poll of Polls, an average of eight non-partisan, live operator national polls of likely voters, finds Obama barely leading Romney 49% to 48%.
A Politico/George Washington University survey has it tied at 48%; an NBC News/Wall Street Journal poll indicates Obama at 48% and Romney at 47%; and the latest ABC News/Washington Post tracking poll puts Obama at 49% and Romney at 48%.
The national polling numbers are slightly different in the battleground states, where Obama holds a small edge in more states than Romney. Though polling slightly ahead, most of Obama's swing state leads are within the polls' margin of error.
Obama started his final day of campaigning Monday with a late-morning event in Madison, Wisconsin, where he was introduced by rocker Bruce Springsteen and outlined why he deserves four more years in office.
"Wisconsin, you know me by now. ... You know that I say what I mean and I mean what I say," Obama told the crowd. "I said I'd end the war in Iraq, and I ended it. I said I would pass health care reform, I passed it."
Obama continued: "When I say, Wisconsin, that I know what real change looks like, you've got cause to believe me because you've seen me fight for it and you've seen me deliver it. You have seen the scars on me to prove it. You have seen the gray hair on my head to show you what it means to fight for change."
Before the Madison speech, David Axelrod, a senior campaign adviser, expressed confidence ahead of Tuesday's election and said that "all those pathways" to 270 electoral votes "are intact."
After the rally in Madison, Obama flew to Columbus, Ohio, where he was joined by Springsteen and rapper Jay-Z.
The president will round out his day with a final campaign stop in Des Moines, Iowa, before heading to Chicago, where he'll spend Election Day.
At his first event of the day, Republican candidate Mitt Romney warned supporters of further financial trouble unless voters choose to send him to the White House.
"Unless we change course," Romney said at his first event of the day in Sanford, Florida. "We may be looking at another recession."
Romney struck a big-picture tone at his first event. Though there were a few attack lines directed at the president, the Republican candidate spent a great deal of time outlining what he would do from the Oval Office.
"Tomorrow, we begin a new tomorrow. Tomorrow, we begin a better tomorrow. This nation is going to begin to change for the better tomorrow," he told the excited crowd. "We can begin a better tomorrow, tomorrow. And with the help of the people in Florida, that's exactly what's going to happen."
According to a campaign senior adviser, Romney's message on this last day will be focused on "those last few undecideds."
After his Florida event, Romney flew to Lynchburg, Richmond and Fairfax, Virginia for campaign events. Following those stops, Romney will rally in Columbus, Ohio, and finish in Manchester, New Hampshire, where Kid Rock is set to perform. He will then make the short trip to Boston, where he'll spend Election Day.
Obama, Romney make a mad dash in a final bid for votes
Monday's frenetic campaigning comes after an equally fast-paced weekend.
Early Monday, Obama wrapped up a campaign stop at a community college in Aurora, Colorado, where he addressed the death and devastation left by Superstorm Sandy.
"Unfortunately, the people of this town understand what it means to grieve better than most," Obama said, recalling the July mass shooting at a movie theater there that left 12 dead and 58 wounded.
"Just as you have begun to heal as a community, we are going to help our friends on the East Coast heal. We are going to walk with them every step of the way. No matter how bad a storm is, we come back. No matter how tough times are, we will thrive."
His voice raspy from weekend campaigning, Obama painted Tuesday's vote as a choice between policies that have moved the country out of the depths of recession and ones that got it into one in the first place.
Romney used his campaign stops Sunday to hammer at Obama's record, particularly on the economy, saying it didn't warrant returning him to Washington.
Campaign explorer: Ads, money and travel
"Throughout this campaign, using everything he can think of, President Obama has tried to convince you his last four years have been a success," Romney said at a rally in Cleveland. "So his plan for the next four years is to take all the ideas from his first term -- the borrowing, Obamacare and all the rest -- and do them all over again. He calls his plan 'forward.' I call it forewarned."